January 22, 2018
Categories: Business, Cyber Security
It's a typical day for a local real estate agent until the click of an email threatens the entire business. Large corporations, small businesses and, as shown in recent days, not even the government is immune to cyber-attacks.
Why it's Important
If you're a small business owner, you may think you are too small for cybercriminals. However, the opposite is true as they don't particularly care about the size of the data, but the value. If you have customer's...
Read More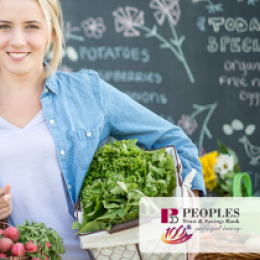 June 28, 2017
Categories: Community, Personal Finance
Supporting our community is one of the most impactful ways we can help it grow. By shopping with local vendors and utilizing area service providers you and your family can help ensure that our community prospers and grows each year. If you want to shop local, but don't know where to start, our team at Peoples Trust & Savings Bank has come up with some creative ideas you may not have considered yet.
Get produce at your local farmers market. Purchase floral arrangements from your...
Read More