Mobile Payments
Peoples Bank is committed to making banking easier and more secure for you. Making a mobile payment from your smart device introduces another level of ease. If you can trim the size of your wallet and avoid lost or stolen cards, it's a win in more ways than one. Whether you choose to make payments through Peoples Bank Mobile app or other payment options on your mobile device, you can benefit from making contactless payments, conveniently and safely.
Mobile wallets
Mobile or digital wallets are a type of mobile payment that allow you to pay using your smartphone, tablet, or smartwatch. Peoples Bank Visa® debit cards are compatible with Apple Pay, Samsung Pay, and Google Pay. Once your card information is added to a mobile wallet, you can tap-and-pay the next time you make a purchase. Nowadays, millions of retailers support mobile wallet payments. If you see any of these icons at check-out, then mobile wallet payments are accepted.

Security
Paying with a mobile wallet offers enhanced fraud protection than paying with your traditional card. With mobile payment, your card information is never shared or transmitted to a retailer or merchant. Instead, your device keeps your information locked away and uses a unique digital identifier known as a "token." To authorize a payment, an additional layer of security requires authentification by using your fingerprint, face or iris scan, or PIN.
Watch Our Digital Wallet Video Tutorial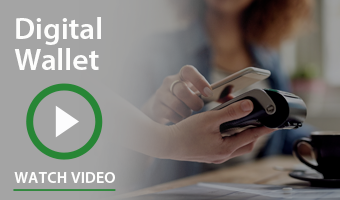 Mobile wallet is available with the following Peoples Bank Cards:
Peoples Bank Personal Visa® Debit Card
Peoples Bank Business Visa® Debit Card
How to set up your wallet
Apple and the Apple logo are trademarks of Apple Inc., registered in the U.S. and other countries and regions. App Store is a service mark of Apple Inc. Google Play and the Google Play logo are trademarks of Google LLC. All Samsung trademarks, service marks, and trade names are trademarks or registered trademarks of Samsung Electronics Co., Ltd.