Keep Your Family and Money Safe
Protecting yourself and your family from those who wish to do you harm is of the utmost importance. Our Security and Fraud Information Center gives you the best tips for keeping yourself secure and criminals out of your bank accounts.
Identify Theft Prevention: Video Tutorial
In the below video tutorial, we'll give you the facts about Identity Theft - what to watch for and how to avoid being a victim. Take a few moments to learn about each of the Identity Theft Danger Zones and the simple steps you can take to avoid being a victim.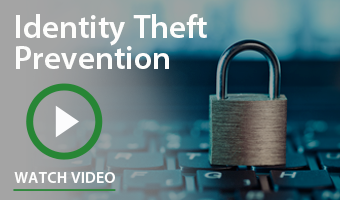 ATM Protection: 3 Ways to Avoid CARD SKIMMERS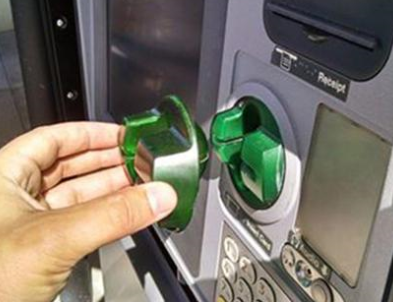 Check for Tampering

Look for obvious signs of tampering especially near the card reader and keyboard. Look for differences in color or material and check for graphics that aren't aligned correctly. If anything doesn't look right or feel right, don't use it.

Wiggle It

Even if obvious signs of tampering aren't visible, push at everything. Generally parts should not have any jiggle. Pull on the card reader. Check the keyboard to ensure it is securely attached and just one piece.

Think it Through

Successful skimming requires both the magnetic strip data and the PIN. Always assume someone is looking at your PIN. Protect your PIN by covering your hand when you enter the number sequence.
Skimmers are frequently installed in quieter locations since it is easier for the criminal to install the device and collect the data. Also, weekends tend to have a higher risk for getting hit by a skimmer since it can be more difficult to report a tampered device. Always consider the safety of the card reader before using it.
What to do…
If you suspect a card reader has been tampered with, report it to the police. If you are the victim of skimming, contact your Peoples Bank Banker for assistance as soon as possible.
Why .BANK?
Why .BANK?? Peoples Bank has a .BANK web address which ensures a trusted, verified and more secure location for our bank's online banking services. All .BANK websites meet advanced security requirements, and only verified members of the banking industry can have a .BANK domain. Learn more here.
How To Protect Yourself From Online Fraud
Learn to use built-in security features that are provided with your internet browser instead of disabling them.
Keep your system and applications current with updates from the vendor's website. For example, use Microsoft® Windows Update feature and install any Critical Updates and Service Packs that are available.
Use virus and spyware protection software and keep it up to date in order to detect new threats.
Use a software or hardware firewall to protect your computer from network intrusion.
Make sure that any wireless network you connect your computer to is secured and requires encryption.
Do not download files, install software, or open email attachments from unverified or unknown sources.
FDIC CYBERSECURITY GUIDE for BUSINESSES
FDIC CYBERSECURITY GUIDE for INDIVIDUALS
What You Can Do:
Verified by Visa® – Shop securely online with your Peoples Bank Visa® Debit Card. We have partnered with Visa® to offer EMV 3-D Secure technology. This free service protects eCommerce transactions by providing an additional layer of identity verification before authorization. During an online purchase, you may be guided through an extra check to verify your identity. This helps us ensure you are the rightful owner of the card and better protects you from fraud. Visit usa.visa.com for more information.
Online Banking Service – Banking online is a secure and convenient way to monitor your account activity 24 hours a day, 7 days a week.
Balance Alerts – Sign up for balance alerts through your Peoples Bank Online Banking account to keep track of your account balance if it goes below or above any amount you specify.
Never provide personal or financial information to unsolicited email, phone or pop-up website requests.
Type the website addresses (URL) into browsers instead of clicking on links in emails.
Change user IDs and password every 30 days. User IDs and passwords should not be your name, social security number, or any personal identification information. Passwords if possible should be a minimum of 8 characters and should contain upper and lower case letters, numbers or special characters. Passwords should not be common words or names. Keep anti-virus and anti-spam filtering software on your computer up to date.
Characteristics of Fraudulent Emails and Websites
Our bank will never send out an email requesting you to provide, update or confirm any personal identifying information.
Spoofs often have a sense of urgency telling customers that if they fail to update, verify or confirm their personal or account information, that access to their account will be suspended. They often contain obvious spelling errors, which are made to help spoof email avoid spam filters.
Spoof emails typically ask for personal or account information such as:

Account numbers
Credit and debit card numbers
Social security number
User IDs and passwords
Mother's maiden name
Date of birth
Other sensitive information

Never give out any personal information in response to an unsolicited request.
They often include links that appear to be from a legitimate company or website address. The fraudulent emails will disguise or forge the sender's email address so they appear authentic.
If you get an email or pop-up message that asks for personal or financial information, do not reply or click message links.
Identity Theft
Identity Theft involves criminals co-opting personally identifiable information – such as a person's name, social security number or account number – for their own use. This is a crime that puts victims in the position of having to clear their credit reputation and credit records – in essence, to prove their innocence.
If You Are a Victim of Identity Theft
Call the ID Theft Clearinghouse toll free at 1-877-438-4338 to report the theft.
Place a fraud alert on your credit file at all three credit reporting agencies.
Contact the fraud department of each of the credit agencies:
Equifax http://www.equifax.com 1-800-525-6285
Experian http://www.experian.com 1-888-397-3742
TransUnion http://www.transunion.com 1-800-680-7289
If your accounts or ATM/Debit cards at our bank are compromised, contact Peoples Bank at 1-800-891-9389 as soon as possible so we may assist you.
Contact your credit card companies immediately to stop access to your accounts.
Stop payment on fraudulent transactions or stolen checks.
File a police report with your local police department or the police in the community in which the identity theft occurred.
Report all suspicious contacts to the Federal Trade Commission; http://www.consumer.gov/articles/1016-recovering-identity-theft#!what-to-do or 1-877-IDTHEFT.
What is Peoples Bank doing to help protect you?
Secure Communications
Our system ensures that data exchanged between your PC and our computers is encrypted with 128-bit encryption-the strongest encryption available. Encryption is accomplished through Secure Sockets Layers (SSL) which utilizes mathematical formulas to "encrypt" or hide information from prying eyes on the internet. Additionally, if SSL detects that data was added or deleted after you sent it to the bank, the connection will be severed in order to guard against any tampering. The most popular browsers have the SSL security feature built in.
Secure Environment
Our computer system does not connect directly to the internet. It is isolated from the network via a "firewall". A firewall is a combination of software and hardware products that designate parameters as well as control and limit the access that outside computers have to the banks internal network and databases. You can feel secure knowing that our firewall protects your personal information from unauthorized access.
Secure Login
User ID's and passwords are isolated from the internet by being stored on a separate server. This way the passwords and ID's can never be accessed or downloaded by anyone on the internet. To begin a session with the internet banking server, the user must key in a Log-in ID and a password. Our system uses a "3 strikes and you're out" lock-out mechanism to deter users from repeated login attempts. After three unsuccessful login attempts, the system locks the user out, requiring either a designated wait period or a phone call to the bank to verify the password before re-entry into the system
Multi-factor Authentication
An additional layer of security and fraud protection has been added to help prevent identity theft. Now when you sign up for internet banking you will be required to establish a security image and three security questions. Your security image and pass phrase will help to confirm that the website you are visiting is authentic and your security questions and answers will serve as a second layer of security to verify your identity on non-registered computers.
NOTE: You will be responsible for maintaining one of the most important security measures, your password. When you receive your password, be sure to keep it a secret. Memorize it, or write it down and keep it in a safe place. It is not recommended you carry your password in your purse or wallet. Make sure no one watches you enter your password and always close your browser when leaving the computer. Make sure you regularly scan your computer for viruses that could be used to capture password keystrokes. You ultimately hold the key to your password security.
Keeping your personal identification secure is important to us. Please refer to your local Peoples Bank branch if you have additional questions or concerns.
IDEA
Note: The Peoples Bank website and Online Banking are best viewed and printed using Microsoft Internet Explorer 11 and higher; Firefox Version 27 and higher; and Safari OS X 10.9 or higher. If you experience difficulties viewing or printing from the site, please download an updated browser version and try again. If your problems continue, please contact one of our Financial Centers and they will be happy to help you.