Personal Finance Manager
The Peoples Bank Personal Finance Manager is an easy-to-use financial tool that helps you plan a budget, track savings goals, watch your spending, monitor your accounts, and receive alerts. Every time you log in, you will see an updated, complete dashboard of your finances. You can even pull in accounts you have at other financial institutions. With greater account visibility and access to powerful financial tools at your fingertips, you can improve your budgeting, planning, and goal setting. Personal Finance Manager is a free tool for Peoples Bank customers and is available through your Online Banking account - no separate login required!
Benefits of Using Personal Finance Manager
Visibility of complete financial picture – Link both Peoples Bank accounts and accounts from other financial institutions to set up a dashboard that provides a comprehensive financial picture for easy monitoring.

Planning and goal setting – Access budgeting and spending tools within the Personal Finance Manager to improve planning and goal-setting for upcoming expenses such as purchasing a car, taking a family vacation, or investing in education.

Track and organize expenses – Updated, 24/7 visibility of your transaction history, and the automated or customized categorization of your purchases can help you understand your spending habits.

Receive alerts - Set up email or text message alerts to inform you when you are close to or exceeding your budget goals for improved budgeting.
View more details by watching our Personal Finance Manager video tutorial.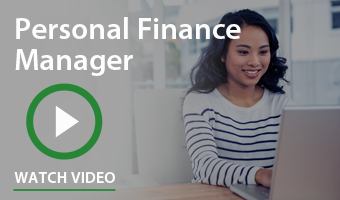 Accessing Personal Finance Manager
Enjoy the financial planning and budgeting benefits of Personal Finance Manager by logging in to your Peoples Bank Online Banking account and selecting the Budget tab in the main menu. If you are not enrolled in Online Banking, learn more here. Contact us anytime or visit a Peoples Bank location for more information.