Health Savings Account (HSA)
Peoples Bank offers health savings accounts (HSA), which is an account established by an individual to pay for medical expenses. HSAs are offered in conjunction with a high deductible health insurance policy; the high deductible policy provides protection against major medical expenses while the HSA is used to pay for day-to-day medical expenses. An important benefit of an HSA is that you can use the savings to pay for eligible medical expenses for you or your family tax-free; contributions are tax-deductible and distributions are tax free. Money you do not spend can carry forward to future years and you can even use the money penalty-free after age 65 for any purpose you want.*
Learn more about Health Savings Accounts below, then let our bankers help you determine if you could benefit from an HSA. Find a branch or contact us today.
HSAs Feature:
No monthly service charge

$100 to start earning interest

Withdrawal by debit card, check or in branch transaction

Online Banking available

Visa

®

Debit Card available
Watch Our HSA
Video Tutorial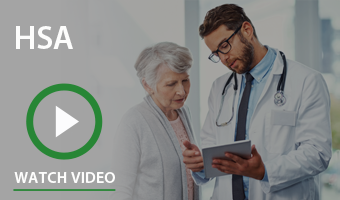 What are "eligible" medical expenses?
Examples of eligible medical expenses include: doctor visits and checkups, hospital expenses, prescription drugs, optical care, dental care, and limited reimbursement for mileage, travel and lodging for medical purposes.
Am I eligible?
To be eligible for an HSA, you must be:
You are covered under a high deductible health plan (HDHP), described later, on the first day of the month.

You have no other health coverage ny any other plan that is not a HDHP

You aren't enrolled in Medicare.

You can't be claimed as a dependent on someone else's 2019 tax return.
How much can I contribute?
The amount you are allowed to contribute changes each year. The amount is different for individual versus family health coverage. Please contact your tax professional for updated eligibility and contribution details.
2020 Requirements and Limits
Individuals must have a high deductible health plan to open an HSA.
Self-only Coverage: Minimum deductible of $1,400

Self-only Coverage: Maximum out-of-pocket expense of $6,900
Family Coverage: Minimum deductible of $2,800
Family Coverage: Maximum out-of-pocket expense of $13,800
2020 Contribution Limits
Self-only Coverage: $3,550

Family Coverage: $7,100

2019 Catch-Up Contribution Limits (age 55 or older): $1,000
*Additional rules may apply. For more information see IRS Publication 502, or consult a tax professional.