Giving back to our communities
Assisting the communities we serve has been a focal point for Peoples Bank over the course of our long history in Central Iowa, and it is the heart of our "Peoples First Banking" approach. Our corporate and employee-led volunteerism and charitable giving have made significant contributions to Iowa's growth. You can learn more about these efforts below.
While most companies stop there - we keep going. The needs of our communities continually change, and we understand this. As a forward-thinking bank, we are always pursuing new ideas and innovative solutions. Our scholarships, unique GIANT PIGGY BANKTM program which promotes financial literacy for elementary students and our industry-leading investment in solar power across eight of our nine branches reflects Peoples Bank's application of fresh thinking and technology to benefit Iowa's people and environment. Read more about these specific efforts by visiting their unique pages promoted at the bottom of this page.
Volunteerism
Our flagship volunteer program, Peoples Helping People, launched on Jan. 1, 2016, with the goal of motivating and increasing community involvement efforts throughout the bank in a positive manner for both employees and customers.
"The Peoples Helping People program has been instrumental in the growth of Peoples Bank in Guthrie Center," said Dennis Flanery, market president in Guthrie Center. "It allows our staff to invest their time within their own center of influence in the community. Each employee can represent Peoples Bank in an organization or activity that has meaning to them. Peoples Bank can only succeed if our community is growing and Peoples Helping People makes that happen!"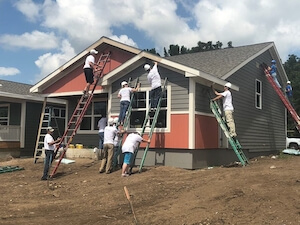 ---
"These outstanding efforts keep us connected in the community and continue to show our dedication to the markets we serve. We are proud of what our branches have been able to accomplish through our Peoples Helping People volunteer program."
---
Charitable Giving
Peoples Bank supports groups and organizations that improve the communities we serve. We partner with a variety of causes and missions to strengthen our community impact. From community development projects to organizations that strengthen culture to inclusion of employee interests or recreational endeavors, Peoples Bank seeks to enhance the quality of Iowa life through a diverse array of partnerships that all share a common goal of a stronger Iowa.