Posted On: October 25, 2022 by Peoples Bank in: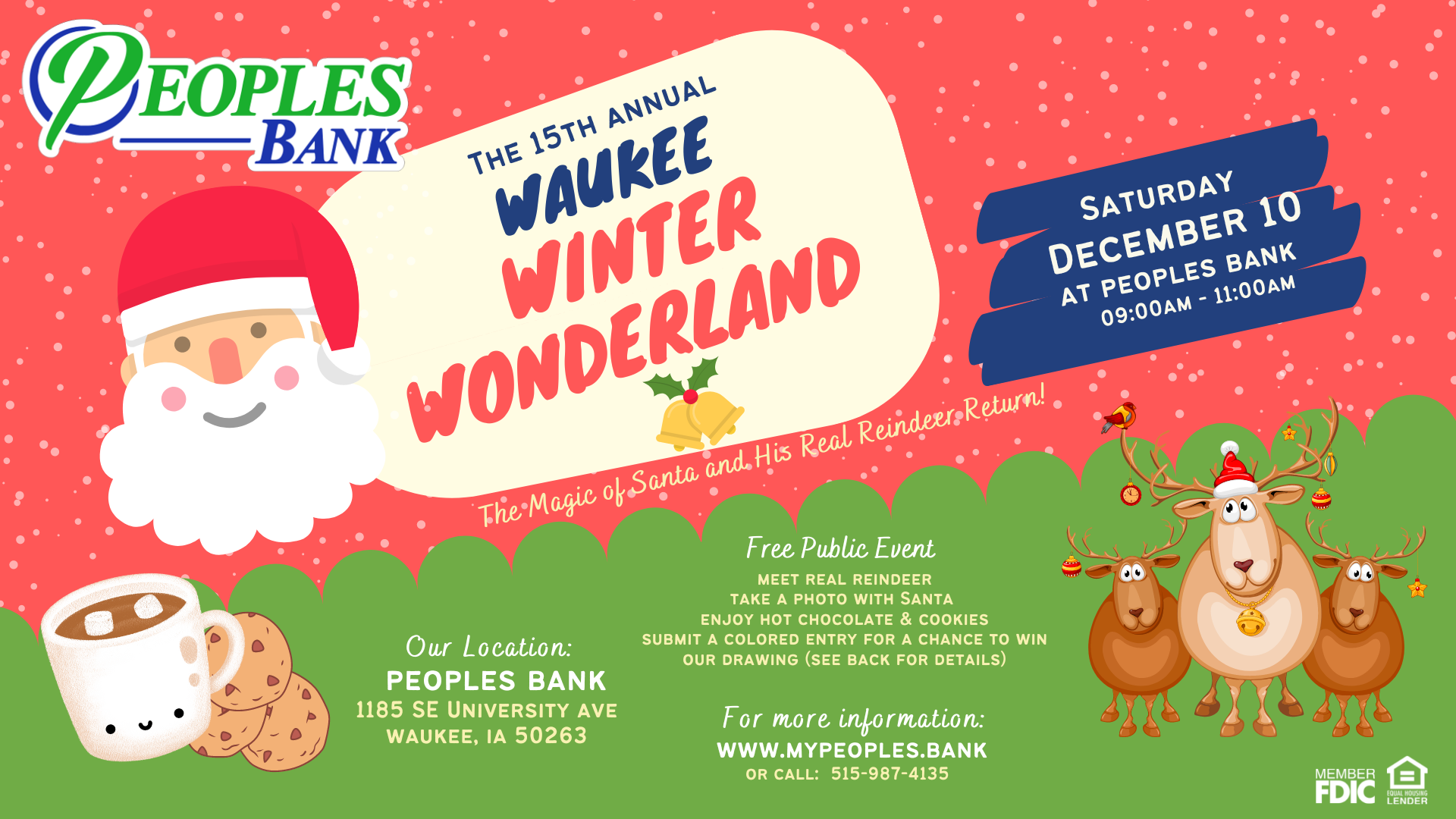 Save the Date - Waukee Winter Wonderland - Saturday, December 10th, 2022 9AM-11AM at Peoples Bank in Waukee
Peoples Bank Waukee is excited to announce the 15th Annual Waukee Wonderland holiday event will take place on Saturday, December 10th from 9:00 AM to 11:00 AM at Peoples Bank Waukee located at 1185 SE University Ave. Waukee, IA.
The event will feature the return of Santa and his REAL Reindeer, along with an open house at the bank where visitors can come inside, warm up, and enjoy hot chocolate and cookies. Children (age 11 and under) can also submit a colored entry for a chance to win a $50 Gift Card! There are two choices of colored entries (a Santa-themed picture and a Snowman-themed picture) that will be available to color at the bank or can be downloaded below and printed at home. Submissions must be returned by Saturday, December 10th to Peoples Bank in Waukee to be entered into our drawing. Winners will be notified by 12/14/2022.
"We're thrilled to be hosting our 15th Annual Waukee Winter Wonderland. This event has become a holiday tradition for many families in our community and we're excited to keep the tradition going," said Marcy Nielsen, Retail Branch Manager at Peoples Bank Waukee.
For additional inquiries about the event, please reach out to Marcy at 515-987-4135.
About Waukee Wonderland
Waukee Wonderland is an annual holiday event hosted by Peoples Bank Waukee. It is a free public event with an outdoor Santa and real reindeer along with an open house to meet the employees of Peoples Bank Waukee. Santa and his reindeer are provided by Iowa Reindeer Rentals out of Garden Grove, IA.
About Peoples Bank
Peoples Bank is a local, family-owned bank in Central Iowa with branches in nine locations - Clive, Waukee, Adel, Guthrie Center, Jefferson, Ogden, Grand Junction, Rippey, and Scranton. Founded in 1917, Peoples Bank has a long history of serving Iowans with a 'Peoples First Banking' approach. Today, Peoples Bank has expertise in banking, home mortgage, insurance, and wealth management with Peoples Financial Center.
Learn more about Peoples Bank by visiting our website at www.mypeoples.bank.