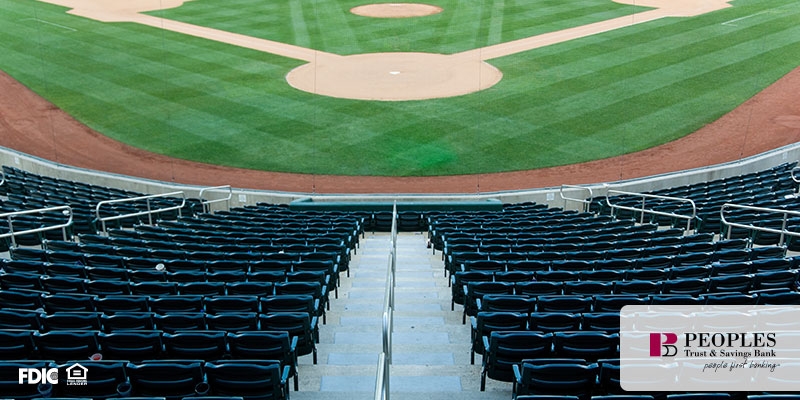 Winning in a baseball game or in your retirement savings is no easy feat! It takes dedication and determination to seal the win. As you begin to reexamine your retirement plan try these key pointers from Peoples Trust & Savings Bank to coach you along the way!
Load the Bases
If you have available resources, make sure you're using them! Just as a batter is primed to score with his bases covered in players, so are you by capitalizing on your 401(k), IRA, personal savings, and structured investing plan. Score extra points by taking advantage of your company's 401(k) which matches your monthly contributions up to a certain percentage of your salary. Those are free dollars to aim towards your retirement!
Pitch a No Hitter
Don't let the opposing team get ahead; work to pitch a no hitter by setting up your emergency savings fund. Instead of walking any unexpected expenses, such as auto repairs or medical bills, send those players back to the dugout with an added savings curve ball. You'll be protecting your savings and racking up points, while staking your claim to your space in the hall of fame.
Build a Winning Team
Just as you would compile your fantasy team around leading scorers and left handed pitchers, the same applies to your financial team! At Peoples Trust & Savings Bank we have a well-rounded lineup of personal bankers, wealth advisers, and lenders to help you make it to the big leagues.
Play Extra Innings
Even in retirement, there's no rule against a little over time! Take up a part or full-time job you enjoy to cover living expenses before you have to dip into your savings account. You and your spouse could land a home run in the bottom of the 10th with some additional income at the start of your retirement.

No matter if you're swinging for the fences or just trying to get on base, our experienced team at Peoples Trust & Savings Bank can help craft a game plan for your retirement! Give us a call at (800) 891-9389 or stop by the bank today!