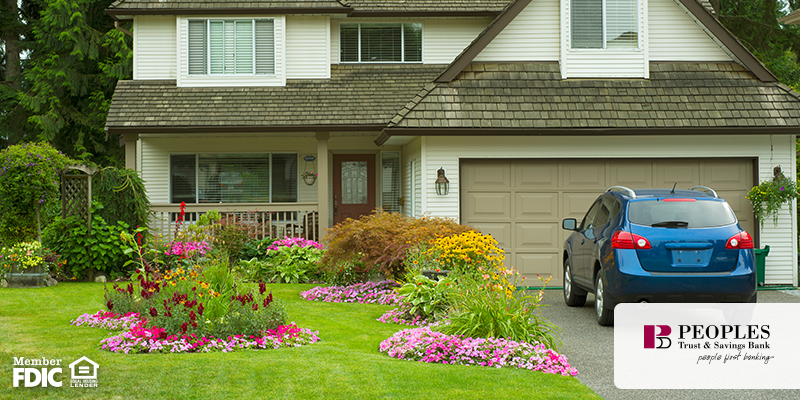 Home improvement projects can be overwhelming and who wants to spend their free time camped out inside covered in sawdust on a beautiful spring day? Whether you want to put your home on the market now or in the future, here are a few simple tips to get you outdoors while increasing the resale value on your house!
When the time comes and you are ready to move onto your next home, Peoples Trust & Savings Bank will be right beside you.
Have a Strategy in Mind

Before taking a shovel to your whole yard, have a strategy in place for the design you want. You could even hire a professional landscaper to come up with a design for you. You don't typically have to hire them to complete the design, but do it yourself. Think about what goes with the design of your home, what plants might need the most time to grow and how to stay on budget. Some of your ideas might take some time to accomplish, so break up what you want to get done within different spurts.

Keep it Green

Planting trees is not only great for the planet, but will appreciate with time as well as cut down on energy costs from the shade they provide. They make your home more attractive to visitors and potential buyers. Did you know that one study even shows that neighborhoods with a lot of vegetation report less crime? That sounds like a win-win to us!

Think Low Maintenance

While you may want to go all out in landscaping your home, less is more. Unless a potential buyer is a master-gardener, a majority of people will translate a yard with extreme detail as more work. Focus on simplicity and utility to attract a wide range of spectators.

Frontside Curb Appeal

Some experts say to spend 10 percent of the value of your home into landscaping. However, this might not guarantee a 15 percent increase in resale value as suggested, nor be in your budget. There is curb appeal for a reason, and we recommend starting with the first side of the home that people see. It doesn't even necessarily have to be with vegetation. Paint your front door or upgrade the numbers on your home. These are easy updates that will draw your visitors in.

Consider All Seasons

When deciding on plants, try to have an array of species that will make your home stand out all year long. From tulips in the spring, to chokeberry bushes in the winter, having an assortment will make it easier to draw potential buyers in all year long-whenever you decide it's time put the house on the market. Try opting for plants that are drought-friendly, so you are not having to worry about daily watering.