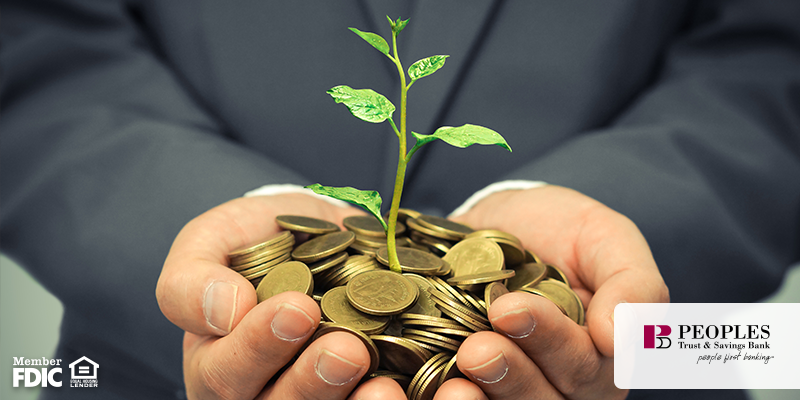 Have you ever thought about making your household more environmentally friendly, but felt it would just be too expensive? Many homeowners are under this impression, even though they have a desire to reduce their carbon footprint. However, you don't need to buy all new energy efficient appliances. In fact, going green and saving money can even go hand in hand. By merely adopting a few of these suggestions, you can decrease excess and expenses.
Reduce
Travel - Dealing with traffic on your way to work is frustrating. Why not share the ride with a coworker? This not only decreases air pollution, but lessens the traffic, the daily stress of driving and gas costs. This is a huge help to the environment, as 30 percent of carbon emissions come from transportation. If this isn't your thing, consider biking to work or working from home.
Waste - Whether it's saving on stamps from Peoples Trust and Savings Bank's paperless billing or adjusting a thermostat, you can eliminate waste with simple choices. Unplug any electronics you are not using, or invest in a powerstrip to easily turn off of multiple money-hungry appliances. Say goodbye to plastic water bottles, and hello to a water filter and glass water bottle. Water-efficient fixtures and LED light bulbs are a low cost way to decrease waste - it's that easy!
Reuse
Compost - Instead of throwing your banana peel in the trash, consider starting a compost bin. This is the hallmark of an eco-friendly household. This will not only lessen the use of garbage bags, but provide you with nutrient-rich soil for your garden!
Electronics - If you have gadgets you no longer use, there are many places that will buy them from you to refurbish. By not throwing these in the trash, you will have prevented harmful chemicals from entering the water systems. Never buy new when you can get it cheaper online!
Rethink
Cleaning - Even if you are buying chemical-free cleaning products, it can be easier to make your own products from natural ingredients like lemon and vinegar. Did you know your dryer can increase your electric bill by 6 percent? Set up a clothesline outside for fantastic smelling laundry and savings.
Purchases - Be a smart shopper. Convenience has a price when it comes to food. Buying from your local farmer's market and cooking at home will eliminate the waste from packaging and the costs that come with manufacturing. Even buying clothing that seems "cheap" comes at a price, as those items typically come from countries with low environmental standards, and the products won't last as long as quality items.
Implementing any of these tips into your routine is a great start to going green and saving money! For more great ways to maximize your dollar, check out the wide range of services at Peoples Trust and Savings Bank.