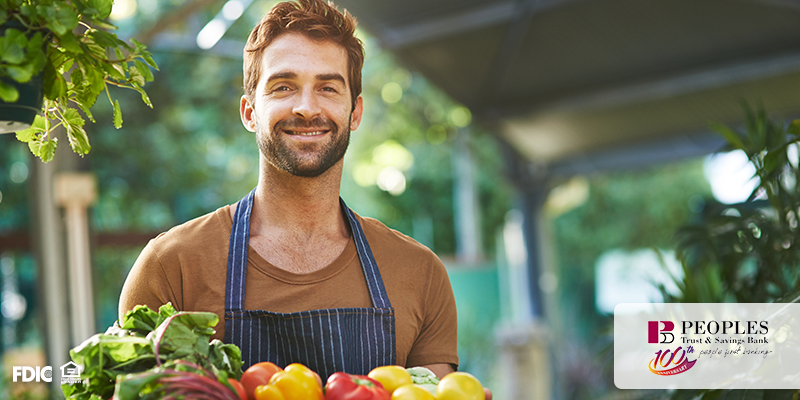 One of the things we enjoy most during produce season is the delicious and money-saving weekend Farmer's Market. Just about every community has their own local growers, and no matter where you are there's sure to be some delicious baked goods as well. This season, our team at Peoples Trust & Savings Bank would like to share our favorite finds which brighten up our kitchen and keep a few extra dollars in our pockets.
The first thing you'll want to do before shopping at any Farmers Market is to find a good reusable tote, (or wagon if you plan on purchasing a lot,) along with a predetermined amount of cash to help budget how much you spend with the various vendors. Once at the market, it's a good idea to do a quick lap around to see what items are being offered from each vendor. Then, you can go through and decide which produce you want to buy and where.
Here are the top 10 items we look for while shopping at our local Farmers Market:
Honey: Did you know honey is one of the very limited products of nature that does not spoil? It's eternal shelf life not only gives you an endless amount of time to use it, but it's delicious too! Find a local honey provider who can ensure you're getting the best product your area can offer, and add it as a sweetener to numerous recipes.
Heirloom Tomatoes: These delicious beauties aren't commonly found in your home improvement stores while out shopping for plants or seeds. When you find them at the market, they may be a bit pricier than the traditional varieties, however, their complexities and flavors will make your dishes come to life!
Cucumbers: Did you know that it is cheaper to make your own pickles compared to buying them at the store? Grab up four or five decent sized cukes, an onion, and some dill the next time you're at the Farmer's Market, and give it a try!
Hot and Sweet Peppers: When these guys are in season, we love trying as many varieties as we can! Not only are they cheaper than their grocery store counterparts, but they taste significantly hotter and sweeter as well!
Onions: Have you ever seen a green onion with a bulb bigger than a quarter? You'll enjoy these and other delicious delicacies, which give you a better bang for your buck! Be sure to take a look at all the varieties of onions available, as you may just find a new favorite. So long as they're stored in a dry cool place, you can keep fresh onions for several months!
Rhubarb: There's something about this especially sour vegetable. Sweet and crunchy, it offers a fun twist to many fruit dishes, but grocery stores rarely seem to carry it. Be sure to stock up this season, as this delicious vegetable can be frozen or canned easily.
Lettuce: Cut and go varieties will be seen year round at Farmer's Markets. With many varieties available, now is an affordable time to taste and tweak your favorite salad recipes.
Berries: You name it! Strawberries, blueberries, huckleberries, whatever delicious morsels you can find are at your nearby Farmers Market are well worth the cost. These tasty treats are some of the region's favorite sweet staples and are perfect for snacking.
Baked Bread & Jams: Be sure to sample home baked treats throughout the season, and enjoy the different flavors the market has to offer. Great products, such as buttermilk bread, offer mouth-watering twists on a many timeless classics.
Flowers: Compared to your area grocery store or box brand, these Farmers Market flowers are sure to stop you in your tracks. Not only do they last longer, because they're picked locally, but they tend to cost less, and offer a more regional variety.
We wish you luck on your next Farmers Market outing, just be sure to stick to that budget, and enjoy all the tastes and smells the market offers. Happy shopping!