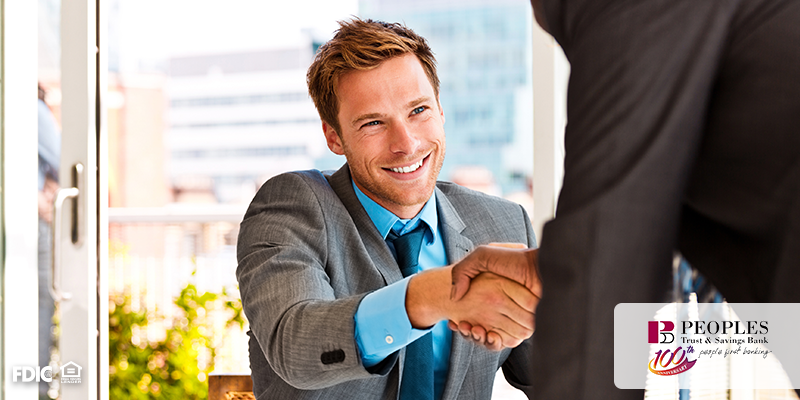 Sometimes finding the perfect idea for a new business can be easier said than done. Often you start by asking yourself a series of questions. Where is there a need? What can be created more efficiently? How can I solve a recurring problem? These are all great prompts to help you when looking for a concept your new business. To help inspire your next venture, Peoples Trust & Savings Bank would like to share some of our favorite quotes from several of today's most influential entrepreneurs.
"Don't quit, and don't give up. The reward is just around the corner." - Chip Gaines, HGTV's Fixer Upper.
While Chip may add some much-loved humor to HGTV's Fixer Upper, his ambition and work ethic are what help him and his wife Joanna, continue to succeed in both their real estate and retail ventures. This dynamic duo also proves that one business does NOT limit you to other opportunities. If you have a true passion for entrepreneurship, you can plant the seeds for multiple ventures so long as you tend to them as they grow.
"Sweat equity is the most valuable equity there is. Know your business and your industry better than anyone else in the world. Love what you do or don't do it." -Mark Cuban, ABC's Shark Tank.
Mark Cuban started growing his businesses at an early age, showcasing that even a small idea can grow into something big. In 1990 Cuban sold his first computer consulting business for $6 million dollars to CompuServe. Not even a decade later, Cuban and business partner, Todd Wagner sold their new online audio company for nearly $6 billion dollars. Cuban is one of the best examples of growing your earnings and turning a penny into a fortune.
"If you are successful, it is because somewhere, sometime, someone gave you a life or an idea that started you in the right direction. Remember also that you are indebted to life until you help some less fortunate person, just as you were helped." -Melinda Gates, Bill & Melinda Gates Foundation.
Melinda Gates began her career as a programmer for Microsoft. Soon after she and Bill began to build the company, they decided to push their wealth into various organizations to help others around the world. While there are various tax write-offs that make this a helpful tool for any business, this gesture also allows the company to share its love and showcase its own values through these acts of generosity. The Gates family is a great illustration of not only how to generate success but also using that platform to help improve the lives of countless others.
"You don't learn to walk by following rules. You learn by doing and falling over." -Richard Branson, Virgin Group
Richard Branson is known for his cavalier lifestyle, passion for quality, and continuing desire to grow his expanding empire. While Branson may have begun his entrepreneurship in print, he soon expanded to international corporations and other industry diversification. His journey to wealth held its fair share of trial and tribulations, however, today his company, Virgin Group, oversees more than 200 companies, proving that early business lessons can eventually pay the best dividends.
"When I sat down to write about mistakes that have led to my success, I had a much tougher time coming up with them than I would expect. Heck, I'm sure I've made hundreds of mistakes! Thing is, I often don't look at them that way." -Stephanie Izard, James Beard Award Winning Chef]
Chef and entrepreneur Stephanie Izard knows that sometimes the best ingredient to a successful business is a good attitude. No matter how far her restaurants and industry successes take her, Izard is always seeking out new tricks and techniques to continue improving her business. Her efforts paid off in 2013 when she was awarded the James Beard title of Best Chef: Great Lakes, for her innovative work at Girl and the Goat. This culinary creator showcases the key indicator of a great entrepreneur, grit.
Whether you're looking to start a restaurant or a software company, there are some key components you'll need to get started. Our dedicated business bankers are here to help guide you through the entrepreneurship process and help you discover the best financing solutions for your upcoming venture. If you're ready to get the ball rolling, stop by Peoples Trust & Savings Bank's nearest branch today!