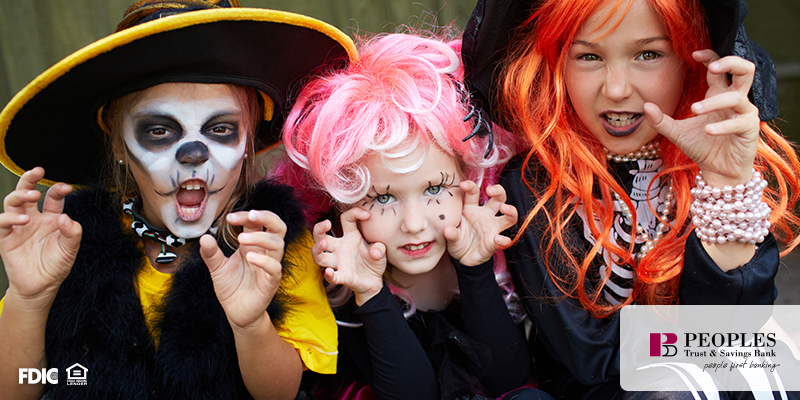 Get your family into the fun of Halloween without breaking the budget! Try these exciting costume ideas, courtesy of Peoples Trust & Savings Bank:
Ballerina: Help you little one showcase her favorite after-school activity, by using her dance class attire for an easy Halloween costume! If you're searching for a new dance outfit try this affordable option. At a price tag of only $25, a portion of these proceeds go directly to the Make-A-Wish Foundation.
Identity Theft: Give your neighborhood a laugh, and adorn your child with 20 different name tag stickers, all sporting various names. As different people answer the door, your child can give them a giggle, and begin explaining the costume.
Football Player: Energize your favorite quarterback, by helping your child to pretend to be their favorite NFL Star. Safety pin some simple graphics to their existing school jersey, and you've an all star player in the making!
Crazy Cat Lady: This is one of the greatest last minute ideas. Have your child put on a robe, add curlers to her hair, and attach several stuffed animals (preferably cats,) onto the robe. Plastic glasses and a touch or red lipstick finish this ensemble off.
Grapes: As simple as a pair of leggings, a long sleeve t-shirt and a pack of balloons, this easy costume is sure to be a family favorite. Color coordinate all your items to be red, green, or purple. Once your child is wearing the leggings and long-sleeve, attach the 10-20 balloons to the outfit for the full effect.
Zombie: These creepy creatures come in all shapes and sizes. Puruse your local thrift shop for some clothing items than you can cover in ketchup or fake blood. Add a little creative makeup application, and you've got the real life walking dead on your hands!
Rockstar: Imagine how many autographs your child will sign, dressed up as the next pop singing sensation. Help them coordinate an outfit with their own clothes, or a mixture of yours too. Add a wig and a homemade microphone, and you're in business!
Pop Art: Make the most of your artistic skills, and use facepaint and makeup to create this one of a kind costume! Let your kids pick out the color of their dots and accompanying catch phrase.
Minons: Combine a pair of blue overalls, a yellow long sleeve, dollar store safety glasses, and canning lids to create your favorite banana loving character. Add in some fun squirt guns as gadgets, and this costume is complete.
Shadows: Find a black morph suit for your child, and then layer items of all black clothes over it. The more black accessories, the better!
With so many crazy costumes to choose from, your family will surely have the best outfits on the block! Show us your Halloween fun on Facebook, and share your best costume creation!