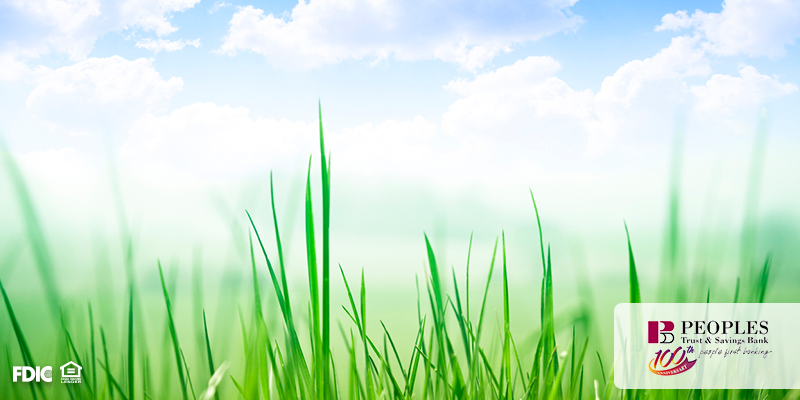 If you'd like to grow your landscape and your finances this season, Peoples Trust & Savings Bank has the perfect tips for you! To jumpstart this warmer weather, we're excited to share our top tips and tricks to maintaining a healthy lawn and garden without digging too deep into your budget:
Seed your lawn early on. Get the growing season started right, and give your landscape some food to help it grow. By not only seeding your grass, but adding fertilizer as well, you can help ensure that your roots grow strong and healthy to fight off intermittent weather changes and pesky pets.
Automate your watering routine. Keep your landscape looking green by maintaining a daily watering routine without all the fuss of hoses and watering cans. By setting up an automated system, you can make certain you're not wasting water, while also saving additional funds from no longer needing to replace malnourished plants.
Utilize alternative landscaping options. Reduce your overall recurring costs by taking advantage of helpful products such as landscape fabric, river rock, and various xeriscaping plants. By using these tools to grow foliage other than grass you can cut down on your time and expenses associated with mowing and upkeep.
Other Outdoor Savings Tips: While the above tips can aid you in keeping a green and healthy landscape, saving money isn't about maintenance only. To help continue your savings in other areas of lawn care, we wanted to share some further tricks in how to reduce other outdoor expenditures associated with your growing landscape.
Choose colorful perennials over less-timely annuals when planting flowers. While annuals can have prominent blooms that catch your eye, these flora varieties will need to be re-planted every year. Avoid paying for new seedlings each spring by utilizing returning perennials plants instead. These recurring blooms will hibernate underground each winter, and emerge where they were originally planted year after year.
Plant prosperous fruit trees for added shade and earning through plant production. By providing an escape from heated sunlight, shade producing trees can help decrease the cost of your home's monthly cooling bill. If you choose a tree that also produces fruit you can typically accumulate $200 or more worth of produce that you have the potential to sell as well.

Make the most of this planting season, and create a garden that will give you both joy and savings. We can't wait to see what you and your family create, be sure to post photos of your outdoor creations on our Facebook page. We'd love to see what ideas and hacks you use!