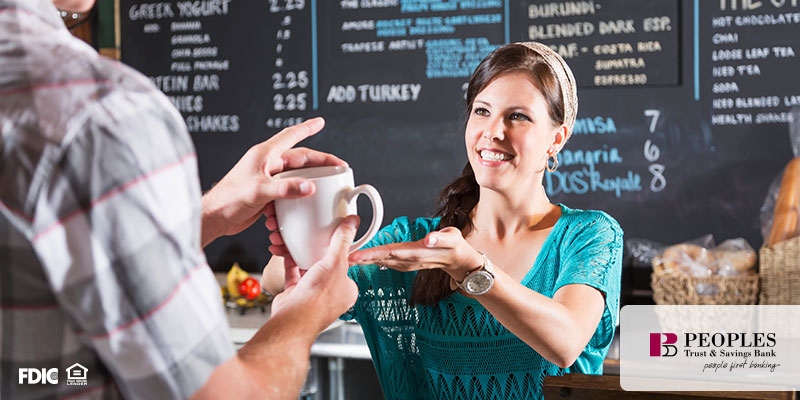 Throughout their teenage years, your children will begin to grow their personal money management style. Offer them some assistance by offering these four financial lessons from Peoples Trust & Savings Bank.
Securing Their First Job
No matter if it's babysitting, lifeguarding, or bagging groceries, there are plenty of employment options for eager high school students. These opportunities typically start at minimum wage with zero benefits, but offer a foundation of experience and learning. Talk with your son or daughter, and help them select positions to apply for that resonate with them. Resources such as the Chamber of Commerce often list local job openings, and are a good place to comb for recent availabilities.
Managing Money
The younger you begin various habits, the better they stick with you. Teach your children the positive effect proper money management can have on their pocketbook. Start by opening both a savings and a checking account for your teen. Each pay period, help them figure ten percent of their earnings to put into their savings. You can also work with them one-on-one each month to help balance their checkbook and plan for any large expenditures.
Saving for College
Secondary education isn't cheap. If your son or daughter plans on attending a college or trade school, the time to start saving is now! Work with your future student to determine an educational budget, providing an estimate of upcoming expenses. Once you know the amount needed you can set savings goals for both you and your teen to start tucking money away. The sooner you begin your savings journey the smoother the road will be to your target amount.
Making Payments
Whether it's purchasing their first car or simply covering the cost of meals at school, learning how to maintain a payment plan is an important life lesson. Explain your personal bill paying system to your teen and see how they can tailor it to their needs. Once they have a grasp on the system itself, gradually add payments to your child's list of responsibilities, even if you add the money to their account. This will help them learn to keep an updated payment calendar before they graduate high school.
Money management is a continual learning process. There are always new techniques or tricks to better arrange your finances. Don't stop honing your teen's money management after these four lessons - stop by Peoples Trust & Savings Bank and see how you can keep growing your family's financial skills today!