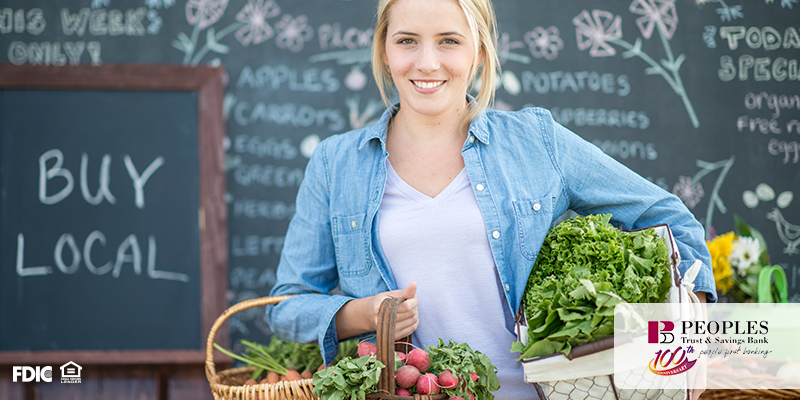 Supporting our community is one of the most impactful ways we can help it grow. By shopping with local vendors and utilizing area service providers you and your family can help ensure that our community prospers and grows each year. If you want to shop local, but don't know where to start, our team at Peoples Trust & Savings Bank has come up with some creative ideas you may not have considered yet.
Get produce at your local farmers market.
Purchase floral arrangements from your neighborhood florist instead of online vendors.
Work with local providers for your insurance and wealth management.
Venture out for the night and tour area dining and entertainment establishments.
Bank with a community bank.
Buy groceries from a regional company compared to the large national chains.
Like your favorite area businesses on Facebook and other social media.
Shop for birthdays and holidays at your community's downtown storefront.
If you have received great service or products from a local business, recommend them to a friend or relative.
Stay local when planning weddings or other milestone events and avoid online alternatives.
Owning and managing a small business may be more difficult than you think. We believe that opportunity is everywhere. Whether you'd like to open a business of your own, or simply want to support the ones you enjoy, it's great to learn what small businesses are all about. That's why Peoples Trust & Savings Bank is excited to share some compelling and surprising facts surrounding the small businesses in our neck of the woods.
A company is considered a small business if they have less than 500 employees according to the Small Business Administration.
99.7 percent of all active companies in the United States are classified as small businesses.
If your favorite retailer has been in business over ten years, they have officially beat the odds. According to the Bureau of Labor, two out of three small businesses are still operating after two years in business, and only half of small businesses have survived after being open for five years. Approximately one-third of small businesses last ten years or longer.
Cash flow is cited as the more common issue regarding a business's failure. Associated tasks such as invoicing, timed billing, and record keeping are often the most commonly linked culprits.
If your business needs to gain capital for an expansion or start-up, Peoples Trust & Savings Bank is here to help. Our experienced commercial lenders can help you determine your ideal capital amount while also setting up valuable cash flow services Send us your information or stop in today to learn more about this convenient and affordable service.