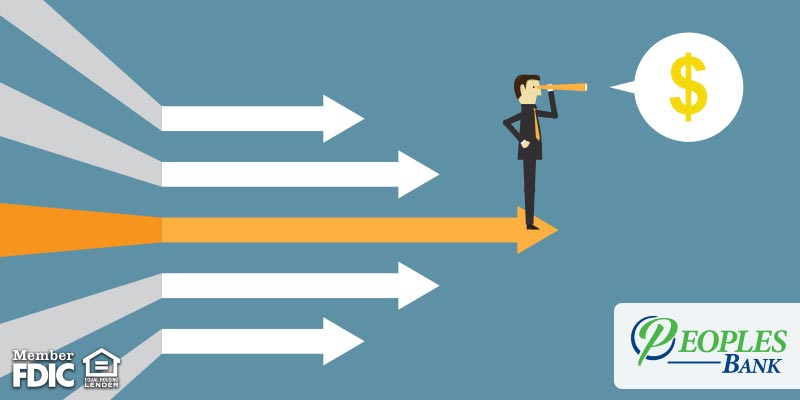 Staying on top of your finances can prove challenging, especially when bills, debt, daily expenses and saving come into play. Finding your way to financial freedom takes time which is why Peoples Bank has compiled a few steps you can take to improve your finances.
Coupon Like Crazy
Some people always pay full price for items. Nowadays, there should be no reason to empty your wallet to that extreme. You can go old school and buy extra newspapers when the coupons are good. We also recommend that you utilize the clearance rack, sign up for free trials and collect rewards cards. Technology also gives you the capability to search coupon sites and download coupon apps, which gives you a plethora of options to save!
Increase Your 401(k)
Even if it is just by 1%, increasing the amount of money you are putting into your 401(k) can change the end results dramatically. It's always important to think about your future, as you'll need those funds to support you and your family. Employers may also match your 401(k) to a certain amount, so be sure to know what your company offers and use that to its fullest.
Add To Your Emergency Fund
Now that you are a little more established, a few hundred to a thousand dollars won't cut it anymore. Your house may need reroofing, you might have to buy a new car or your deductible won't cover a certain emergency or procedure. These unexpected events will cost a pretty penny, so upping your emergency fund will protect you.
Make An Extra Payment Towards A Debt
If you were able to cut expenses this month, put that saved money towards a debt. Pay off a little extra of your car payment or student loans. The Snowball Method teaches you to start by paying off the smallest debts first while paying the minimum on larger debts. Then keep snowballing to the biggest one as time goes on. Always utilize this tip when extra money comes your way, as becoming debt free is the ultimate goal!
Create A Will
According to AARP, "78 percent of millennials (ages 18-36) and 64 percent of Generation Xers (ages 37-52) do not have a will." This is a crucial step in your financial life to not have planned out. No matter what age, you have finances, dependents and property that will be left unattended if something were to happen to you. Be sure to get a will put into place, so your assets can be handled correctly.
Get on track with your finances and tame your budget with these simple tips! If you need any assistance with a savings account or future planning, give us a call or stop in. Aiding you through your financial journey is what we're here for.