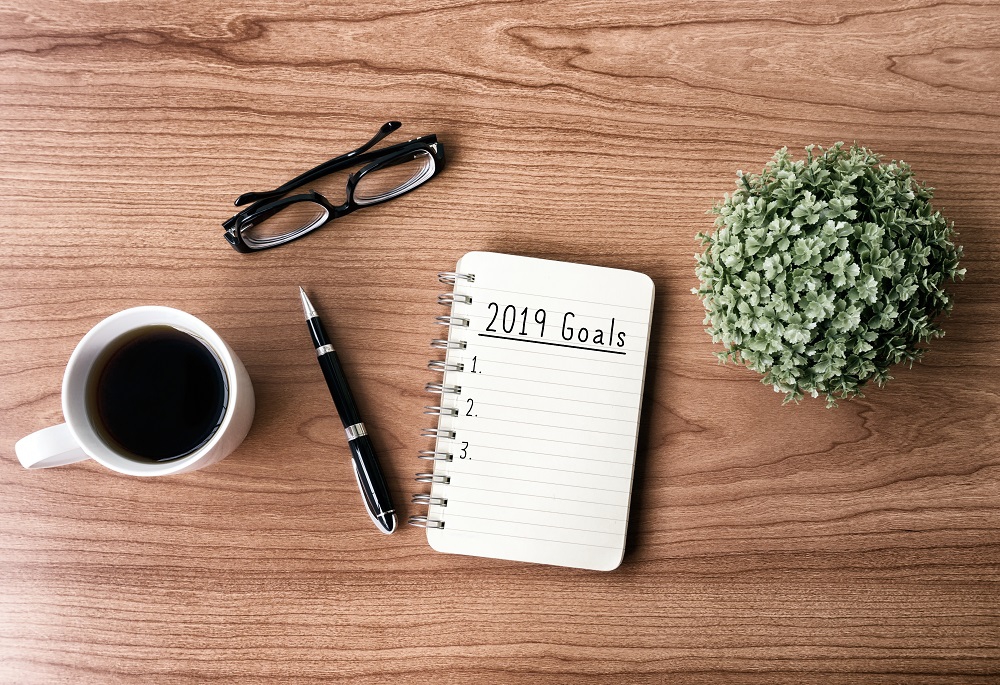 Welcome to 2019, where concocting elaborate New Year's resolutions seems commonplace. Resolutions are great motivating tools, but they don't have to be huge, complicated schemes. They can be as simple as becoming more healthy or financially responsible.
We want to help you maximize the upcoming 12 months. Here are three simple ways you can improve your finances.
Create a comprehensive budget
Any financial goal you have needs to start here. Knowing where your money flows in and out — to the exact dollar amount — is essential for financial wellness.
On a monthly basis, you should know how much money you take in after taxes, how much you're spending and how much you're saving. If you're not exactly sure where your money is going, keep meticulous track of your spending for 30 days, then build a custom budget that works for you.
To start, look at your income. Calculate how much money you take in after taxes.
On the expense side, figure out your fixed expenses, which are costs you have to pay every month. These include mortgage payments, auto payments, car insurance, cellphone bill and more. After fixed expenses, find your average variable expenses, which include going out to eat, going to a movie, etc. The total of both fixed and variable expenses will show you where you can save and potentially lessen your costs to help saving in the future.
Once you have your primary budget laid out, stick with it. Mark all of your financial happenings in a Microsoft Excel document. Or, if you don't want to go through the trouble of laying out a document, use online tools, like Intuit's Mint, which allows you to connect all of your financial accounts in one location. From there, you can create custom monthly budgets and set your own goals.
Find ways to save, multiply your money
Now that you've got a budget laid out, you can spot ways to save money.
The rule of thumb is to save 10 to 15 percent of your pretax income for retirement. If your employer matches on 401(k) contributions, put in money up to that match. Otherwise you're missing out on free money. On top of that, it's also beneficial to put money away for an emergency fund, if you don't have one yet. An emergency fund should cover about six months of your living expenses.
If you don't have extra cash to save, find variable expenses you can reduce. You can also find other sources of income, like a second job.
It also helps to find the right banking and portfolios in which to place your money. Many banks offer competitive interest rates in checking and savings accounts, helping your money grow. Peoples Bank, member FDIC, just increased rates on its Rewards Interest Checking account to 2.00% APY for balances up to $25,000. Money market accounts and certificates of deposit are also great places to save money, with higher interest rates and relative security.
If you have a short-term savings goal, like a vacation or a wedding, read our previous blog on how to effectively save.
Pay down debt
Maybe this is the year you focus on paying down those pesky student loans? Or maybe you want to get that car loan out of the way? While debt isn't necessarily bad, it can be a bit frustrating to watch money taken out of your bank account each month.
Using the above tool, you will have a good grasp on your finances. Try to reduce spending in variable expenses to free up some money for paying down debt. That may mean fewer trips to the coffee shop or fewer night outs with friends, but in the long run it'll be worth it.
Start by paying down your highest interest rate loans, even if they aren't your largest sources of debt. Reducing the money you spend on interest is a high priority.
Using the above points as a guide for the upcoming year will help your financial well-being. Hopefully the new year is one to remember!