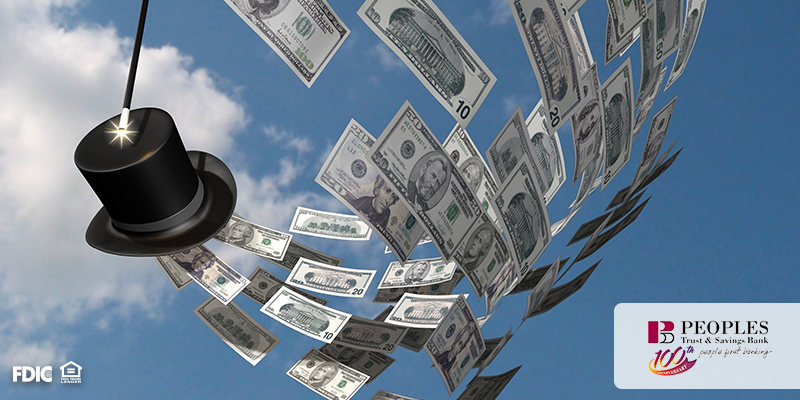 Magic is one type of entertainment that will never go out of style. Whether it's David Blaine and his shocking stunts, or newly famous films such as Now You See Me, this classic art has proved to truly stand the test of time. While Peoples Trust & Savings Bank may not be the best at slight of hand, we do have a few savings tricks up our sleeves! See if you can understand the steps to these financial stunts and make your fiscal success appear out of thin air.
Make your money disappear (into your savings!)
Before you're tempted to spend those hard earned dollars, we'll show you how to make them vanish, and then reappear! By logging into your online banking, you can set-up recurring monthly transfers for a set amount from your checking to your savings. This way, your funds will get tucked away before you even knew they were there! The extra money saved can contribute to your retirement, education, or even an exciting getaway.
Cut your debt in two.
Tired of paying pesky credit card debt, a mortgage, or student loans? This helpful hack can show you how to saw that number in half, and potentially make it disappear. Financial talk show host Dave Ramsey has a proven method called Snowballing Your Debt. By continuing your monthly minimum payments, and using extra funds to "attack" one debt at a time, you can then rollover extra money from the fully paid loans into paying off the next biggest debt and then the next. Before you know it you'll be debt free, and looking for another financial trick to master!
See double dollars on your retirement plan.
If you're like most Americans and need to play a little catch-up on your personal retirement savings, this trick is sure to impress! To really maximize your saved dollars, we recommend diversifying your retirement accounts, by allowing one to be maintained by your employer (401k) and creating a separate account for you to contribute to on your own (IRA.) By automatically withdrawing money from your paycheck through your 401k, you can potentially invest MORE while having it managed through your employer. In addition to this, creating a dedicated IRA to store personal savings dollars in allows you to explicitly manage the growth of your continued contributions. Know what's better than one retirement savings account? Two!
Pull extra money out of a hat.
Just like magicians, a good budget can help you find things you never knew were there - like money! Whether you're using traditional methods like the envelope system, or more digital options like the YNAB, the end goal is still the same. To help you save even faster, you can couple your budget with additional savings tips and tricks on common recurring expenditures such as groceries, and you'll see the savings in no time!