Posted On: April 18, 2019 by Peoples Bank in: Community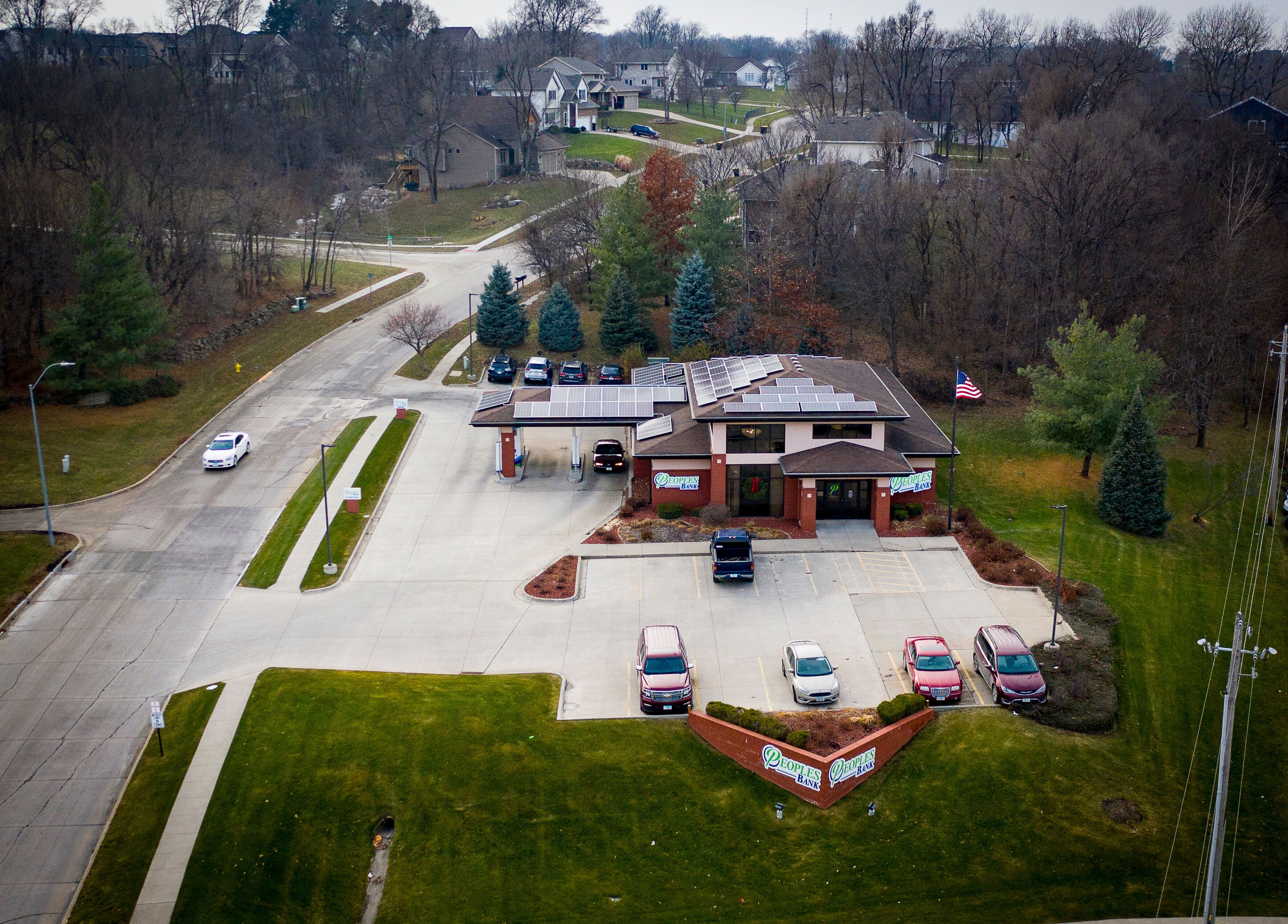 Peoples Bank has recently announced a new solar energy initiative called Power Up @ Peoples, marking the full conversion of eight branches to solar energy and the implementation of nine level-two solar car charging stations at the bank's Clive, Waukee and Adel locations.
The new solar panels and electric vehicle charging stations will be unveiled and demonstrated at special events on Wednesday, May 15 and Thursday, May 16 at the Clive, Waukee and Adel branches. Media and community members are invited to attend.
Each event will have solar power expert Todd Miller from 1 Source Solar — based out of Ankeny, Iowa — on site to conduct a presentation on solar panels, their benefits and the electric vehicle charging stations. Local car dealerships will also be on hand to demonstrate the charging stations. See the bottom of the press release for times and locations.
The special events mark a major milestone for the west-central Iowa community and Peoples Bank, which is dedicated to clean and renewable energy.
"We converted our power source from traditional electricity to solar power out of a sense for our environment and good stewardship of our resources," said John Rigler III, president and chief operations officer. "It also made good economic sense as well, as we have substantially reduced our energy bills. Additionally, we installed solar car chargers for those who currently own electrical vehicles and for the expected growth in that market. Assisting us in this conversion was 1 Source Solar in Ankeny, Iowa. They did a magnificent job for Peoples Bank."
The Peoples Bank locations now operating on solar power are Adel, Clive, Grand Junction, Guthrie Center, Jefferson, Ogden, Rippey and Waukee. To learn more about Peoples Bank's clean energy initiative, visit mypeoples.bank/solar.
Unveiling events schedule
Wednesday, May 15
Where: Adel (804 Greenwood Hills Dr.)
When: 10-11:30 a.m.
Thursday, May 16
Where: Waukee (1185 SE University Ave.)
When: 10-11:30 a.m.
Thursday, May 16
Where: Clive (12701 University Ave.)
When: 2-3:30 p.m.