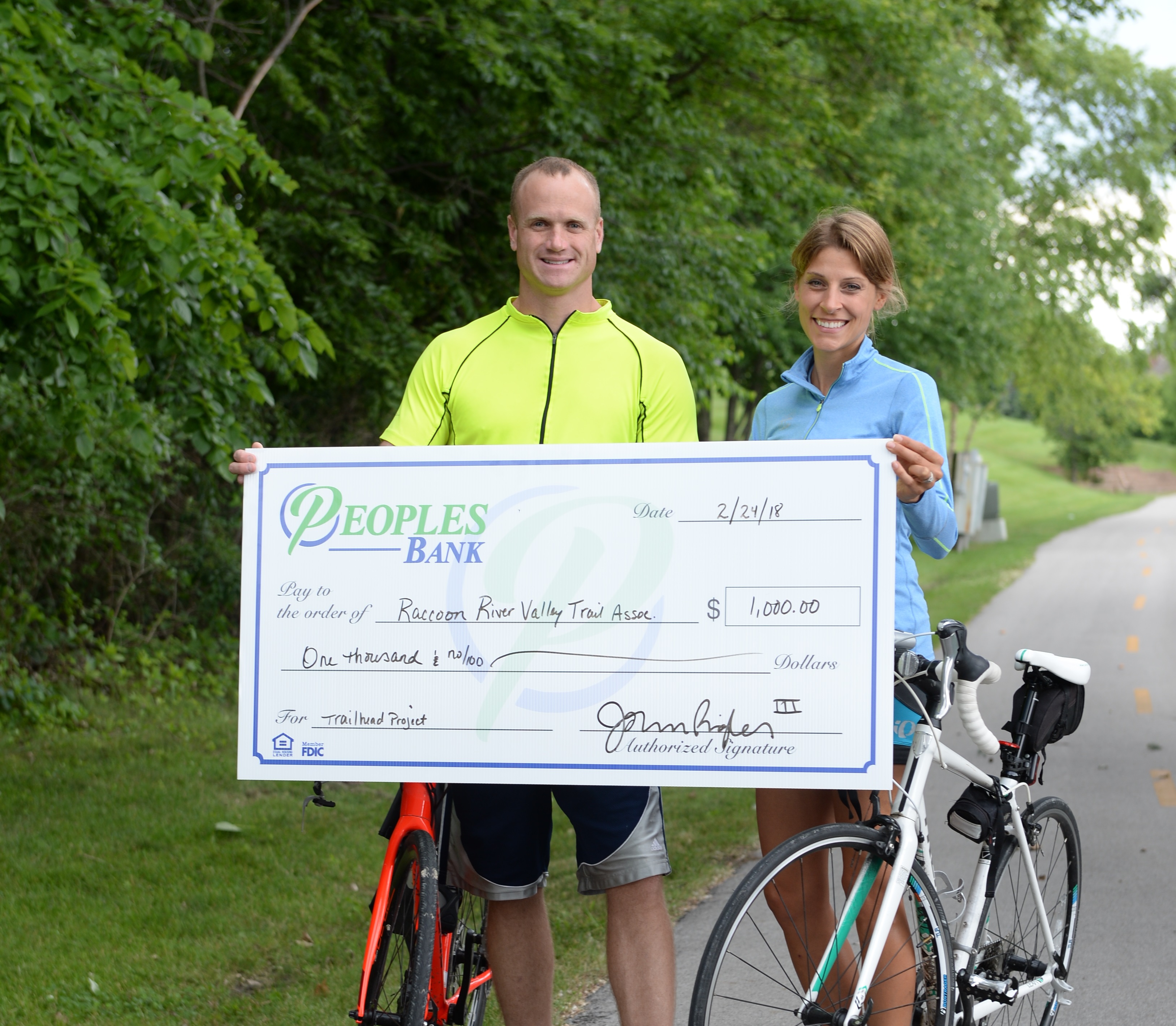 Peoples Bank promotes, values Raccoon River Valley Trail as Central Iowa gem
Central Iowa's beautiful Raccoon River Valley Trail cuts through the heart of the communities Peoples Bank holds near and dear. The 89 miles of paved trails hits four Peoples Bank communities: Adel, Waukee, Dallas Center and Jefferson, where the main trailhead is located.
The Raccoon River Valley Trail also has a 72-mile interior loop passing through 13 various Central Iowa small towns.
It's because of Peoples Bank's role as a community bank that the trail means so much to the organization. It helps the region become a draw for tourists and show the wonderful amenities Iowa's small towns have to offer.
When the Rigler family bought the bank in December 2017, Peoples Bank donated $1,000 to the trail, and the organization plans to continue to support it through various efforts every year.
"Every year, Peoples Bank gets a table at the Raccoon River Valley Trail's annual banquet," President and Chief Operations Officer John Rigler III said. "When it comes to donations, the trail is at the top of our list. We intend to continue to support the Raccoon River Valley Trail for the foreseeable future."
Beyond Peoples Bank, the trail is certainly important to John and his family.
While living in various metro areas around the nation, including Chicago and Washington D.C., John and his wife Andrea biked across many different trails across the nation.
"We used to bike at the lakefront trail in front of Lake Michigan in Chicago," John said. "It was a great and scenic route, but it was very crowded and congested. When we moved back to Des Moines, there was a wonderful sense of freedom."
When John and Andrea first moved to Central Iowa six years ago, they found a bike trail outside their Urbandale home. It was February and 10 degrees outside, but they still traveled to Adel and back, about a 14-mile trip. That ride first introduced the Riglers to the beauty of the Raccoon River Valley Trail.
"We've been amazed at how extensive the trail is," John said. "We live in one of the best states in the country, and sometimes we don't recognize it. These trails help make our state great, and I want to share that freedom and sense of love for all things Iowa with everyone."
For four years, John and Andrea have taken a three-day trip around the trail to celebrate their wedding anniversary. Over that time, they've found some of the best local places to eat and drink.
Here are some of their favorite spots along the trail:
The Brickyard in Adel
Harvey's Diner in Redfield
Just One More in Jamaica
Bunkers Dunkers Donuts in Jefferson — John said they have the best donuts in Iowa
David's Milwaukee Diner at the Hotel Pattee in Perry
The Port in Panora
"The Port has an especially good pork tenderloin, and the Hotel Pattee is a true gem among hotels across the country," John said. "The artwork is tremendous, the hot tub was luxurious and the bacon chocolate-chip cookies on each floor were a great touch."
The trail could be in for a big upgrade in the future as well, and one that John says could be a game-changer for Central Iowa. There are plans to build a path between the Raccoon River Valley Trail in Perry and the High Trestle Trail in Woodward. The nine-mile trail would connect two of the most impressive bike trails in the region. Fundraising efforts have been rolled out in phases, but the end goal is to get $5 million to complete construction. You can donate here.
As RAGBRAI grows nearer — the event will pass through four Peoples Bank cities on July 23 and 24 including Scranton, Jefferson, Grand Junction, and Ogden — the Raccoon River Valley Trail stands as a Central Iowa biking gem. It serves a wide range of bikers, including the Riglers and other Peoples Bank employees in the area.
"It can be conducive to a serious rider who can do the whole trail in one day or the casual riders like us who disperse it over three days," John said. "I don't think it's too bold to say the Raccoon River Trail is a better anniversary trip than Napa Valley in California. It has better food, better drink and better hotel accommodations."
About Peoples Bank
Peoples Bank began in 1917 in Grand Junction, Iowa, primarily serving farmers. In 1991, Green Circle Investments Inc. purchased Peoples Bank and expanded into the towns of Rippey, Jefferson, Scranton and Guthrie Center during the next decade. The growth continued into the new century, with branches opening in Adel, Clive, Waukee and Ogden.
Last year, as the bank celebrated its 100th anniversary, the Rigler family, which owns State Bank in northeast Iowa, purchased Peoples Bank naming experienced banker, John Rigler III, as President and Chief Operating Officer.
Peoples Bank operates nine locations across the Central Iowa area: Grand Junction, Rippey, Guthrie Center, Jefferson, Scranton, Adel, Clive, Waukee and Ogden.