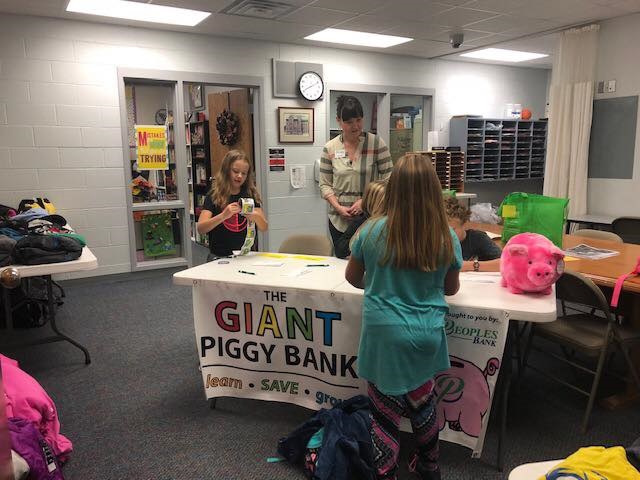 Peoples Bank's Giant Piggy Bank program has been steadily growing since it was implemented in west-central Iowa in the middle of 2018. The program, which aims to teach students how to properly manage and save money, is serving Crossroads Park Elementary in West Des Moines, Greene County schools and Adair-Casey/Guthrie Center schools.
Here's how the program works: Each of the participating schools designates a Giant Piggy Bank day — usually once per week — when children can deposit money into a Peoples Bank Students Savings Account, no matter how large or small the sum. They can then watch their money grow, earning a premium interest rate and access to the account at any Peoples Bank branch.
Making a deposit also means students receive a sticker for their book, which is provided by Peoples Bank. At eight stickers, Peoples Bank will deposit $1 into the student's account.
Students can also participate as student bankers, who help manage the money with the assistance of a professional. While receiving on-the-job training, participants also learn about confidentiality, customer service and teamwork, values that apply to every industry. Students must apply to be a student banker, but all of those who apply are accepted. The process is geared toward teaching children how to apply for an open position. At Crossroads Park Elementary, students who have time conflicts with the student banker are able to join Marketing Committee as well. These students help remind the school when Giant Piggy Bank is taking place and encourage students to sign up.
As an added benefit to schools, Giant Piggy Bank gives free financial literacy training in an effort to satisfy a school district's Iowa Core curriculum requirement. Peoples Bank is also flexible in how it handles each school district, making accommodations for different circumstances.
The Giant Piggy Bank program has been serving students across Iowa for 20 years. Started in 1999 by State Bank in northeast Iowa — which is owned by the Rigler family, who also owns Peoples Bank — the program now serves more than 1,600 students.
For those interested in the program, go to mypeoples.bank/personal/giantpiggybank to learn more.