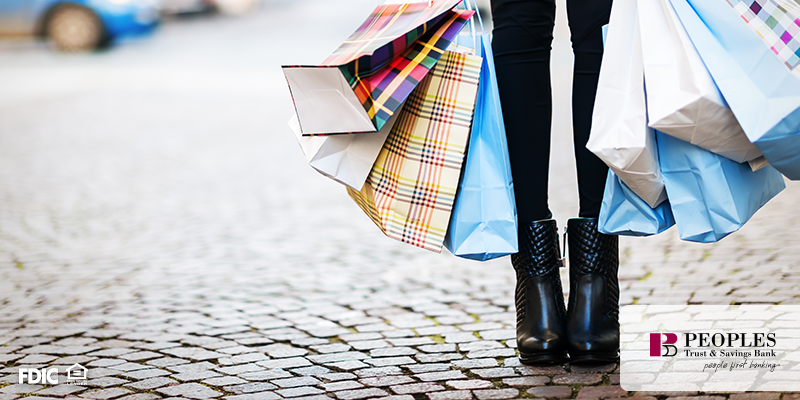 Whether this is your first year, or your fifth, post-Thanksgiving shopping will always have a special place in your heart. Each year shoppers find new ways to take advantage of the steep discounts retailers offer. Peoples Trust & Savings Bank wants to help you make the most of your holiday shopping, by offering these tried and true tactics to the best shopping strategies:
Black Friday: Originally coined from the notion of retailers changing from the red to the black in their profit ledger, this national day of shopping is historically the largest retail day of the year. 2016 boasts some of the largest discounts offered by companies such as Target, Best Buy, and Macy's.
To make your Black Friday shopping experience a success follow these 5 tips:
Scout Out All the Deals: Check the deals on theblackfriday.com for all the latest news and last minute steals. Be sure you know which stores are offering the best doorbusters and overall discount percentages.
Create a Timed Route: Once you know the discounts, you can create a plan to maximize the most of them! Set-up a strategy and time table for how long you want to spend at each store, ensuring the quickest route to navigate store to store.
Assign Team Roles: To make the most of your time in each store give each member of your team a role. One person can go wait in line, while two people go look for the top items, and the last person scours the store for unadvertised deals.
Choose a Top 3: Before you step foot in any store, know what your main priority items are. Do you want to try for the limited doorbusters, or are you after the time restrictive steals? Whatever it may be, each location should have both primary objectives and supplementary items should the primaries fail.
Dress Comfortable: Black Friday can at times be both a marathon AND a sprint.Be sure to dress in layers for various temperatures both in and out of the stores. Well-worn shoes are also a must, this is not the time to suffer through blisters or sore feet.
Cyber Monday: Still relatively new, Cyber Monday offers a highly discounted shopping experience all from the comfort of your home. With large-scale retailers such as Amazon, Overstock, and Wayfair participating, you are sure to find fantastic savings throughout the day. Try this home-based retail exchange this year and see how much time you can save too!
To make the most of your Cyber Monday shopping be sure to try these 5 tricks:
Bookmark Items Ahead of Time: Go to your favorite online retailers and create a wishlist, or save the urls for all your favorite items. This way when you return for Cyber Monday, you can easily check if your go-to
Set Alarms and Reminders: Create alerts on your phone or computer to notify you when an upcoming deal may be approaching. Often times these deals are limited both by time AND quantity, so being there right as it goes live can make a world of difference.
Use Coupon Apps and Extensions: With services such as RetailMeNot, Honey, and Groupon, there now become countless online coupons and deals to add to your list!
Compare Prices: One of the perks of shopping online is that you can be browsing multiple stores at once. Check several sites for your top items, and see which one is offering the best deal!
Take Advantage of FREE Shipping: Retailers will be giving away shipping throughout the holiday shopping season. If your purchases fall within their spending limit or holiday shopping period, you won't have to pay a dime to get them!
Whether you're battling in the aisles, or scoring deals online, we hope your holiday shopping is a success! Share your favorite Black Friday or Cyber Monda photos with us on our Facebook page. We can't wait to see how you do!