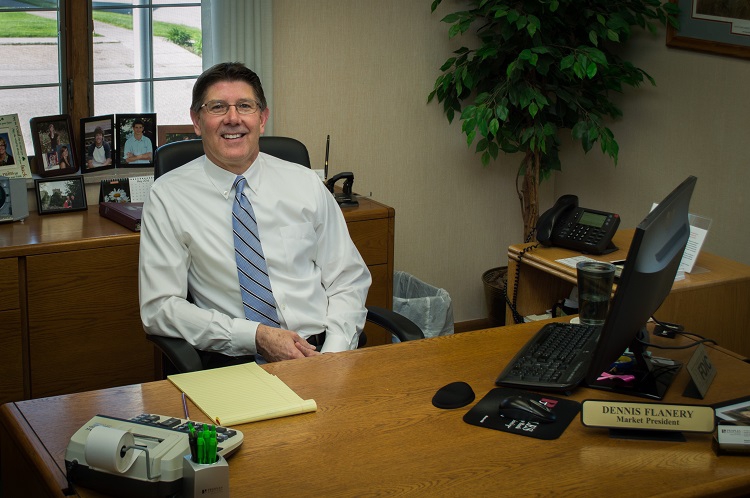 Every month, we will write a short profile highlighting the employees who make Peoples Bank an integral part of each community. Our employees take the initiative and truly make each branch feel warm and welcoming.
Dennis Flanery is passionate about his community.
After all, Flanery, the market president in Guthrie Center, grew up in the city he now lives and works in, and the community is a big part of who he is. That's why he is integral in orchestrating and participating in volunteerism efforts throughout Guthrie Center. His wife is the principal at the local elementary school, and Flanery is an advocate for financial literacy at a young age.
"It's great to do something you like and serve the community you grew up in," Flanery said. "I've been a big advocate for community service and I've tried to do more for the schools and their students. Obviously, I want to do what's best for our bank, and that's also a great way to serve our community and make it a better place as well."
After graduating from high school, Flanery attended Iowa State University and initially studied agricultural business. He grew up on a farm and planned on returning to the farm after college, but while working part time at a local Ames bank, Flanery switched his major to finance. He eventually was hired full time at the same bank in 1984, where he spent 10 years.
In 1994, Flanery and his wife wanted to return to the community they grew up in — Flanery's wife was raised in the Guthrie County area as well — so Flanery began to look for new jobs. At the time, Peoples Bank bought out a local bank in the city. The new owners hired Flanery as the market president. He started in August 1994 and hasn't moved since.
"I'm back home and raised my family here," said Flanery, who has three adult children who work in the Des Moines area. "I wanted to give my kids the same opportunities as I had growing up."
In his spare time, Flanery enjoys boating, golfing and watching local sports teams and supporting Iowa State. He enjoys working outside on the family farm and putting into practice skills learned in the Master Gardening course he took with his mom several years ago.
When he looks back at his career choice, it couldn't have been a better fit. He originally wanted to be a farmer, then a banker, and now he is the market president in a bank that has a high volume of customers in agriculture.
"It's great I can do both things — be involved in the farming community while working at a bank," Flanery said. "As far as working in my hometown, I enjoy giving back to the community and watching it grow. I've seen a lot of things flourish with our downtown and our school system, and those are things I enjoy and am proud of most."