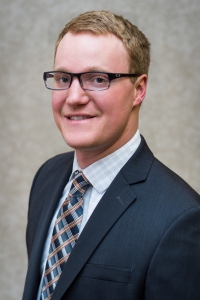 Every month, we will write a short profile highlighting the employees who make Peoples Bank an integral part of each community. Our employees take the initiative and truly make each branch feel warm and welcoming.
Marc Riley was looking to make a move to Central Iowa.
Working at a bank in Emmetsburg, Iowa, in the northwest corner of the state, in 2014, Riley was looking to move down to the Des Moines metro to join his then-fiancée, who was living in the area. He stumbled across a Peoples Bank job listing as a Branch Manager at the Adel location on the Iowa Bankers Association Website.
He applied and waited in anticipation.
A while later, Riley was interviewed by Peoples Bank on a Wednesday. That weekend, he drove down to Clive to undergo an in-person interview. And just a couple of weeks later, he had the job.
He had plenty of experience to back him up when starting at Peoples Bank. After graduating from Iowa State University in 2009 with a degree in finance, Riley moved back to Emmetsburg to work at a small community bank. At 23, he became a Branch Manager of Laurens State Bank.
"I was handed the keys to the bank, and I had to have my ducks in a row and be responsible at a young age," Riley said. "I had to learn by trial by fire. In a community banking atmosphere, you have to be a jack of all trades. Peoples Bank has about 100 employees, and the bank up there had between 17 and 20 people for three branches, so you had to know everything."
That previous experience fueled his success at Peoples Bank. Riley started as the Branch Manager and lender at the Adel Branch in November 2014 and became a Vice President a few years later. He now serves as a Vice President and Regional Lending Manager in Waukee.
Riley lives in Adel with his wife and 9-month-old son, whom Riley describes as "the light of our lives." Like his father, Ted, who was inducted into the Iowa Girls Coaches Association Hall of Fame in 2007, Riley loves sports, particularly golf.
He's an avid Cyclone fan, loves to travel, enjoys cooking and he and his wife are excited for the day when their son is able to swing a golf club.
While Riley enjoyed his time in Emmetsburg, he's glad Peoples Bank has the size and capability of a larger bank with the feel of a smaller, community organization.
"What I like here is the job segmentation, experts, and support staff we have in different areas," he said. "Our staff is quick to go above and beyond their jobs on a regular basis. I couldn't be happier to be a part of this organization."