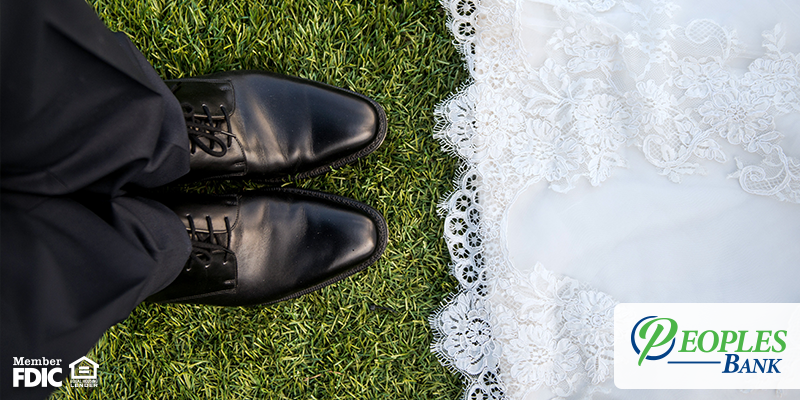 Say 'I Do' to savings and "no" to debt on your big day. Weddings can grow out of control and expensive in no time when the planning begins. That's why it's important to learn savvy ways to save before you walk down the aisle. Luckily, Peoples Bank offers a few creative ideas to trim your wedding budget.
Cut the Cake
Many couples now are ditching the idea of cake and doing mini cupcakes or a donut bar. Find something that fits your quirky personality and go that route. By making your own sweet treats with friends and family or outsourcing to a grocery store bakery, you'll save big on cutting the custom made cake. Be sure to have your relatives make their favorite desserts to allow a widespread table of goodies.
Flower Power
As everyone knows, flowers can make or break a budget. However, you're still going to dream of having the perfect bouquet when walking down the aisle to your hunny. To fix this, find another use for the bouquets such as becoming part of the decor after the wedding. Decorate the tables or dessert bar by putting the flowers in vases, so you can get the biggest bang for your buck. Be sure to use in-season flowers, as this will help you save big on importing costs for exotic blooms. You can also mix non-floral embellishments into the flowers to fill out the bouquets and make them yourself. This way you're spending less on flowers, but they still look fabulous.
DIY Darling
With sites such as Pinterest, Etsy, DIY Network and more, you have a whole arsenal of ideas people have never had before. Getting crafty is easier than ever! Use these sites to find decor ideas that will look incredible but cost a quarter of the price. Get friends and groomsmen to invest their time into helping create your dream decorations.
Raise the Bar
Instead of a full open bar, you could offer beer, a red and white wine or a few signature cocktails. By doing this, you aren't paying for every single alcohol imaginable. You want everyone to have fun, but this will help you enjoy your wedding too because you won't be worrying about the thousands of dollars that could be waiting for you on the tab.
Big Day Borrow
Borrow, borrow and, oh, borrow! If a friend has a wedding veil they're willing to loan you, use it! That could save you hundreds of dollars depending on what you had in mind for the wedding. Other girlfriends may have a pair of shoes or jewelry that matches perfect with your dress. You can also see what decor and items family members may have that you could borrow and use as decorations for the wedding.
We hope these ideas help stretch your budget for the big day! Stop in or give us a call if you need a little extra cash or credit in order to prepare for taking the next big step. Congratulations!