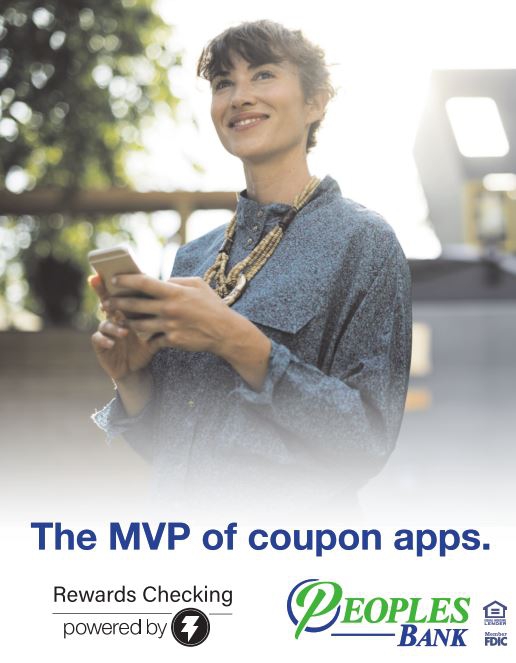 Peoples Bank recently rolled out new checking account options geared toward giving account holders a variety of benefits in banking and their everyday life. The new Rewards Checking and Rewards Interest Checking accounts give customers new ways to bank and earn rewards.
Through a recent partnership with BaZing, Peoples Bank customers with a Rewards account can leverage great deals at local and nationwide businesses. BaZing is an online membership program that partners with banks and merchants across the nation, offering discounts for customers and advertising opportunities for local businesses. Peoples Bank customers with a Rewards account will have full access to the BaZing phone app and website.
To learn more about the BaZing partnership or if you want to sign up as a vendor, check out our previous blog post.
Beyond the BaZing rewards, customers of Rewards accounts receive numerous other benefits.
Cellphone protection gives account holders up to $400 per claim — with a maximum of $800 per year — if their cellphone is broken or stolen. ID theft aid is our way of giving customers some ease, allowing them up to $2,500 in personal identity theft benefit and identify restoration.
If you run into trouble on the road, Peoples Bank can help there, too. Rewards account holders can take advantage of 24/7, free-to-use roadside assistance and up to $80 in covered service charges. To give you peace of mind for the unexpected, Peoples Bank's rewards customers will also have access to $10,000 in travel accidental death coverage. Customers can also use the health savings card to save money on prescriptions, eye exams, frames, lenses and hearing services.
Customers with the "Rewards Interest Checking" account will receive Peoples Bank's best checking interest rate. To waive the $15 fee, accounts just have to have a minimum average daily balance of at least $2,000 or have a combined loan and/or deposit balance of $50,000 or more. For the basic Rewards Checking account, customers just have to pay a small $5 fee every month.
The new Rewards accounts are another way for Peoples Bank to better serve its customers.
For those who want just the basics, Peoples Bank also offers Direct Checking and Interest Checking accounts. These accounts offer anywhere banking tools, like online banking, bill pay and debit cards, and the ability to enroll in e-statements, avoiding monthly paper statement fees. The Interest Checking gives all the above benefits along with increasing interest rates based on the account balance.
To learn more about Peoples Bank's checking account offerings, click here, or call or stop by the nearest Peoples Bank location.