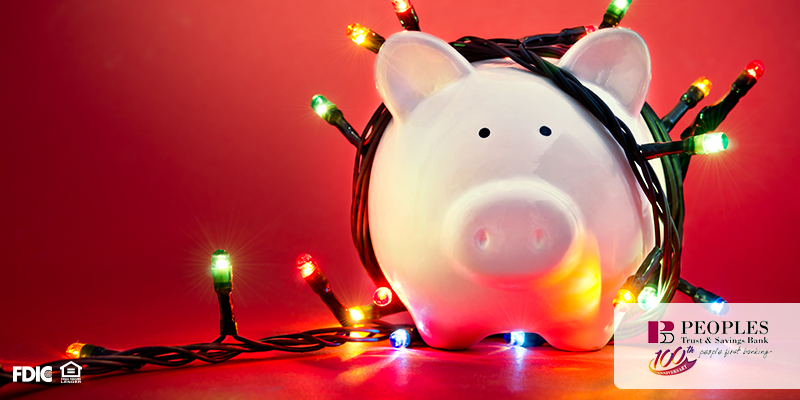 When fall hits, that means that the holidays are approaching. During these special occasions, kids are exposed to a different setting where they get gifts, large meals, cards, and more. That's why Peoples Trust & Savings Bank believes that this time of the year is a great opportunity to teach your children about money. Below are a few ideas on how to incorporate your children into the holiday financial mix!
Identify the costs of the holiday season.
Gifts are a big cost, and children never realize how much it adds up. By putting a monetary limit on the gifts each child and family member gets, your kids we be able to see the value of each gift. Wrapping paper and gift bags are also a cost you need to identify to your child along with the supplies needed such as tape and tissue paper. Cards and letters to family members can add up too, especially if you're using postage. By allowing your child to understand that the cards they receive and send actually cost money, they will appreciate them more and try to find a way to save, possibly by making their own. Finally, the meals made for each holiday add up quite a bit, so this is another helpful way to teach your child about finances.
Limit gift giving outside of immediate family with homemade gifts.
This is another way you can cut costs if you have people outside of your immediate family you'd like to give gifts to. Ideas for these easy and efficient gifts include:
Cookies
Cake in a mug or other mug mixes
Spice rubs
Trail mixes
Brownies
Tea & hot chocolate
The ingredients for these gifts can all be bought in bulk, making them inexpensive options.
Take your children shopping with you.
When you bring your child with you shopping, tell them what the budget is. Then, let them look for items that are on sale or have special deals.
Use your receipts to create a tally of your expenses.
Not only does this help you keep track of what you've spent, but it also shows your kids how small costs can add up over time.
Teaching your children the value of money will help them grow to be financially responsible. So when you go to get groceries for a holiday dinner or gifts for a family member, have your child be involved in the process. You can also set up a savings account with Peoples Trust & Savings Bank to teach your kids the value of saving!